Anansi the Spider is definitely a trickster. Sometimes he is a spider. Sometimes he is a man. Sometimes he is a spider man!
Tricksters have a simple job. They are meant to show us at our absolute worst and best. At their most funny, they are extreme examples of the things that are most likely to get us in trouble.
At their most wise, the stories show us how you can overcome anyone with your brainpower.
Anansi is lazy, greedy, selfish, thoughtless, and self-centered. Lending him anything is not a good idea if you want it back. You partner with him at your own peril.
He is not above the occasional act of casual violence, and he will lie to you as easily as water running down hill. He wants what you have, and has no desire to share. He steals when it suits him, and, of course, his modus operandi is to trick you to get what he wants.
He is quick thinking, and tries to turn every situation to his favor.
Sometimes, Anansi's tricks blow up in his face. Sometimes, they blow up in yours.
Almost every trickster is the same. They are sometimes treated as fools and sometimes treated as keepers of wisdom.
There is a story about how Anansi gained all of the stories in the world. There is another one about how he lost common sense. Looking at those two tales, it is obvious they started out as the same story and went their separate ways!
Anansi is a powerful trickster, and he shows up in places you might not recognize him, like the super hero at the top of this post!
He jumped all over Africa, morphing into all sorts of characters. There are tales about
guinea fowl, dik-dik, rabbit or many others that are clearly transplanted Anansi tales.
When the West Africans were taken out of Africa, one of the first places they were taken was to the Caribbean to work the sugar plantations. The people weren't allowed to speak their own languages, worship as their ancestors had, or tell their own stories, but they were determined to keep Anansi.
He became Aunt Nancy or Sis 'Nancy. You can still find Anansi tales all over the Caribbean.
Stopping that spider isn't possible.
Here in North America, Anansi's tales merged with the other tales that were part of the oral tradition from African lands, and they morphed into the tales of Brer Rabbit, or Bruh Rabbit.
Bruh Rabbit is a unique trickster. He is the only trickster who can never be completely caught in his own tricks. He must always get away because he is the spirit of the African American people.
All of Bruh Rabbit's stories are about the same thing. No matter what anybody does to your body, you always have your mind. Think your way out of trouble don't try to fight your way out. If you try to fight, your trouble will get bigger. When you stop thinking, you are really headed for trouble.
Brer Rabbit jumped around this whole country getting mixed up with the Native American Grandmother Spider and Coyote, the tricksters who came in from Europe and Asia, and somewhere in the '40's they all got turned into the Bugs Bunny characters.
The next time you see Bugs, you are seeing a little piece of Africa.
Anansi still shows up in our literature. His stories end up as parts of movies or shows without anybody the wiser. His stories are all around us.
Anansi lives because what he represents is irrepressible.
He is the spirit of laughter that exists in all of us. We marvel at his cleverness, slap our foreheads at his foolishness, and grin at how he uses his wits to outsmart those around him even as he occasionally outsmarts himself.
Anansi is still here. It is our job as storytellers to show him to people. To let them see how he is still shaping the way we look at ourselves.
On November 6-10, 2019, NABS will be holding its 37th annual Storytelling Conference and Festival in Montgomery, Alabama. Come out and share some tales, enjoy some history!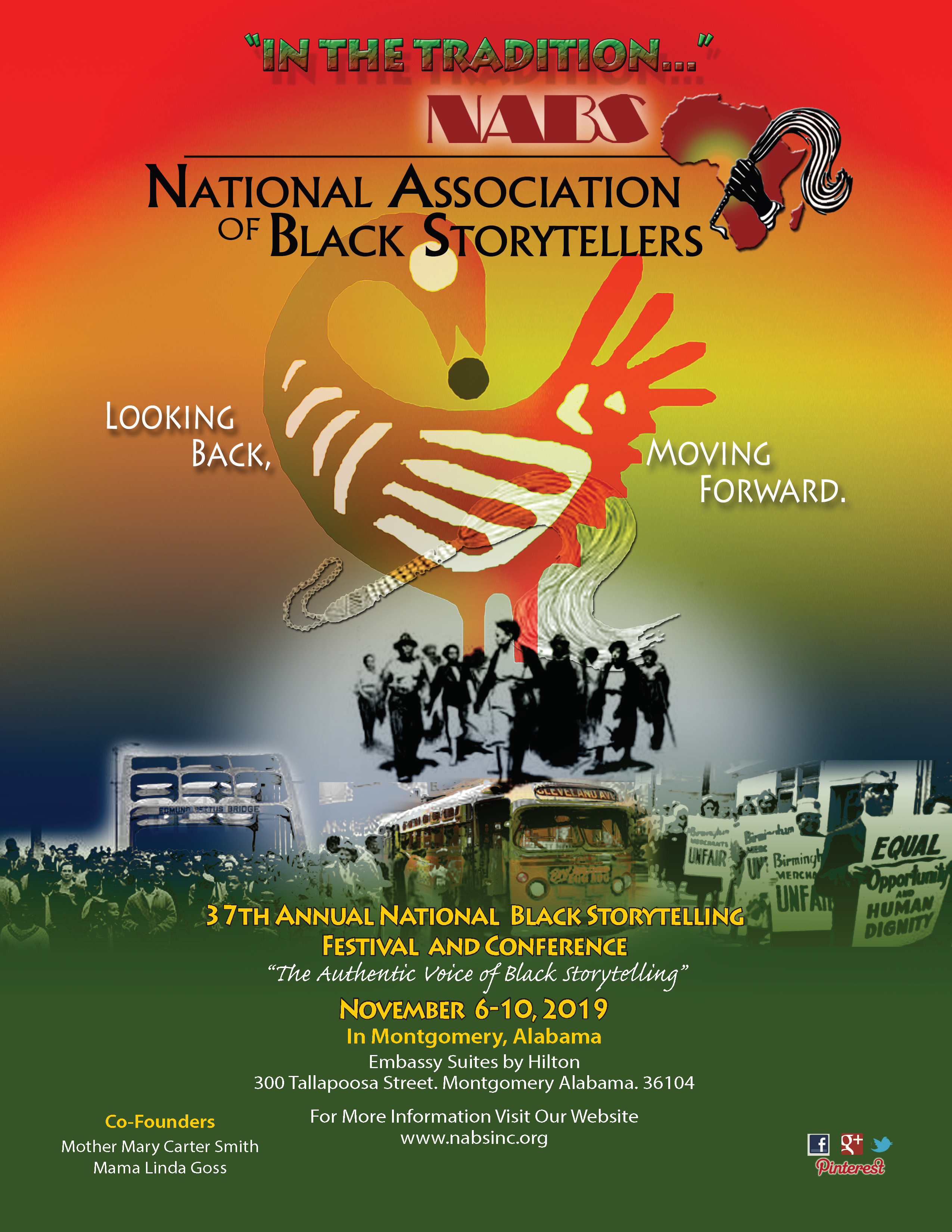 Happy Telling!